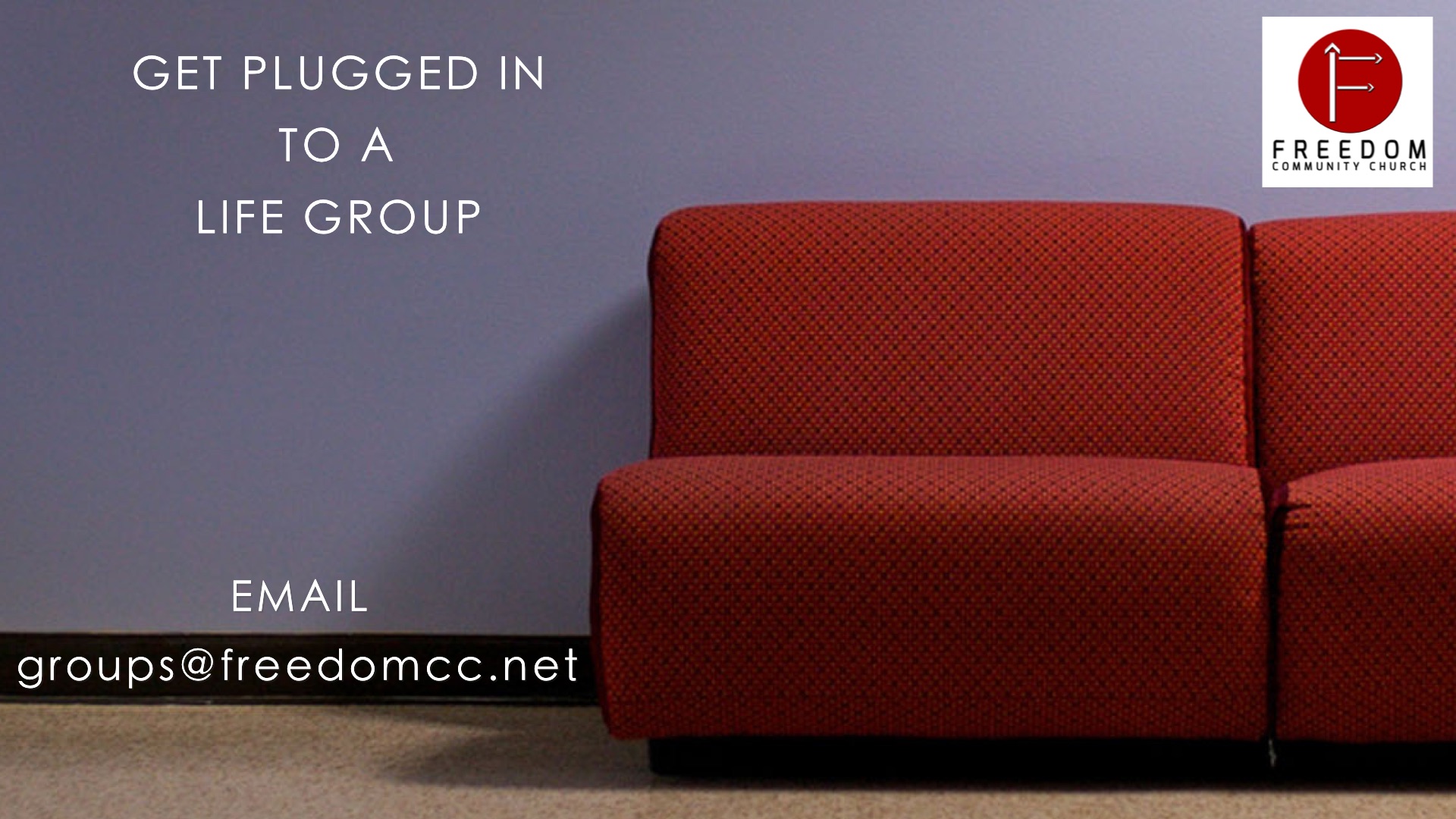 LIFE groups are where we can CONNECT and GROW, as we do LIFE together. We we were launching FCC, we were calling our groups "CONNECT" groups, but, changed the name to "LIFE" groups because our story includes another church, Life Community Church, merging with us for greater Kingdom impact together! Most groups do a "potluck" style dinner together and have childcare. Everyone is always welcome! For more info about our groups, locations, or to join one, please email: groups@freedomcc.net
Prayer meeting (every other Monday): prayer at Penn *6:33-7:33pm  (Matt. 6:33)  
LIFE group (Tuesdays):  -CURRENT STUDY: "Too Busy Not To Pray -Hybels"
LIFE group (Wednesdays): *Resumes in May 2018
LIFE group (Fridays):  -CURRENT STUDY:  "Crazy Love -Chan"
LIFE group (*STUDENTS, 6th-12th): Bible study, snacks, games *Sunday nights
LIFE group (KIDS): games, music, teaching *Sundays during service

Bible Study (WOMEN): 6 week series, STARTS in May 2018,  IHOP, Hoadly Road

Bible Study (MEN): 1st Sat. of month, 7:00-8:00am, IHOP, Hoadly Road
#freedomcares MISSIONAL projects
FCC is ALWAYS active in #freedomcares projects, both LOCAL and GLOBAL. We are the hands and feet of Jesus as we SERVE and GO to a World who needs His love shown to them. Please consider partnering with us in these projects & mission trips…either in-person, or by prayer and financial support.
Spiritual Leadership Team
FCC's spiritual leadership team is made up of elders and deacons that provide spiritual oversight and practical leadership to matters of the church. If you have a question for the leadership, please email: church@freedomcc.net
Lead Pastor, T.Jay Williams
T.Jay and Cresta Williams have been in full-time, local-church ministry together for the past 19 years. T.Jay has served as Youth Pastor, Counseling Pastor, Pastoral Care Pastor, Next Generation Pastor, Associate Pastor and Interim Pastor. Cresta has served alongside T.Jay in ministry and has served professionally as Middle School Ministry Director, Food Pantry Founder and as an educator in Christian and public schools. They are foster parents, along with a few other FCC families. They have 3 teenage children: Adele, Tyler & Carter who have grown-up in church ministry and also have a heart to serve FCC with their talents and time. T.Jay has been involved in the community as a volunteer Chaplain for Prince William County Fire and Rescue since 2012. As FCC gets established, T.Jay is co-vocationally "tentmaking" as a licensed Realtor with Long & Foster.
Worship Leader, Colton Mozingo
Colton was born in Jupiter, Florida, and moved to Virginia in 2013.  He was raised in a Christian home and gave his life to Christ at a young age.  Since then, God has used him in many ways through music and the music industry.  He toured with a worship band during his first year of college and has been on staff in the music and production departments of a few churches since then.  Throughout his walk with Christ, Colton experienced ups and downs, and at times found himself trying to make it on his own, resulting in substance abuse.  For years now, God has taken a hold of Colton and is using his past downfalls to reach others who are struggling with the same problems.
Ministry Assistant, Nancy Lear
Nancy is a native of the Washington, DC area. She has been married since 1991 and has two children. Nancy gave her life to Jesus as a child and continues to love her walk with the Lord.  Through the ups and downs of life, she was always able to count on God. Nancy has worked in a family business, as a credit counselor and as a substitute teacher.  She also volunteers as a Court Appointed Special Advocate (CASA) for children in the foster care system. As her children start to spread their wings and fly the nest, she is excited at the new possibilities coming her way. The opportunity to work part-time for FCC, the church she and her family love, is an answer to a prayer. God is always good to those who trust in Him.
Ministry Assistant, Angie Grevert
Angie, her husband Tracy and their youngest boys, Owen and Jace, joined our Freedom family about a year after we launched.  Angie has been leading in Children's Ministry since she joined. She and her husband have also been instrumental in the organization and maintenance of our community food pantry and are on our Leadership Team. Angie has a heart for helping, especially when  working with children. She is currently working as a full time MOPS childcare provider as well as a substitute teacher at a church pre-school. She absolutely loves sharing the love of Jesus with children of all ages. Angie has been homeschooling her children since pre-school and with God's direction she will continue for their entire education.  God has pointed the way for Angie throughout her life, but many times she has failed to listen. At this time in her life she has her ears and eyes wide open and she is seeing so many incredible opportunities being put directly in her life path. Angie has been a business owner and entrepreneur and is excited to be on staff with FCC. With God's help and Angie's drive there will be many new and exciting things happening here at Freedom Community Church.
Social Media, Marie Matters
As one of the founding members of FCC, Marie has been involved in almost every are of the church. Since the beginning of FCC, she has been one of the key leaders of the children's ministry and the #FreedomCares outreach projects. Married to her husband, David (Leadership Team), for 12 years, and they have two children. Marie currently also works for the ELC (Early Learning Center) at First Baptist Church of Woodbridge. She has served in staff & volunteer roles in church ministry, including M.O.P.S.  and uses her love for social media to help with the church's growth and expansion.  Marie's goal is to continue helping those in need, of all ages, through her service to the church and the community.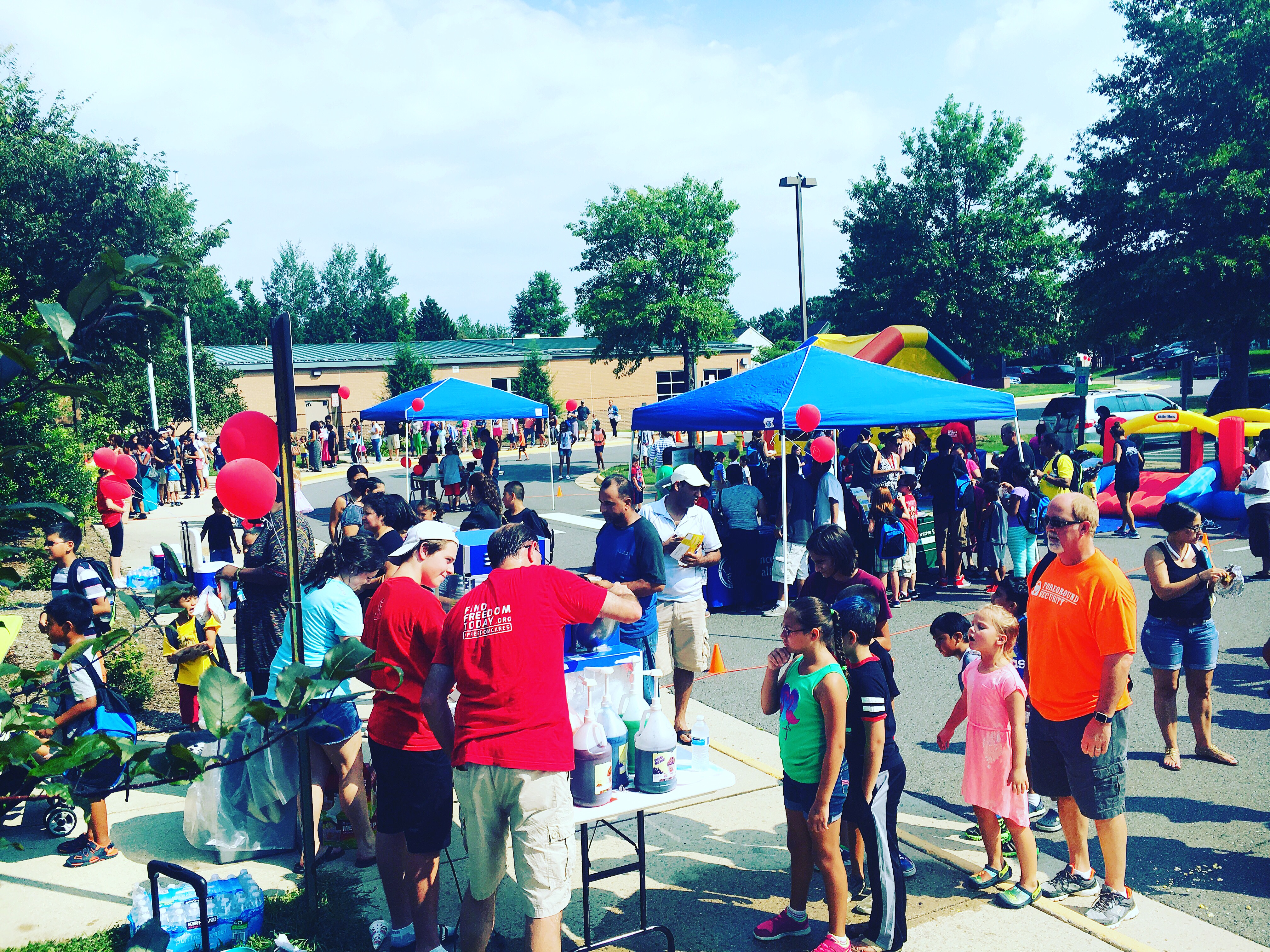 Loch Lomond Freedom Pantry  *Started: Sept. 2017
 YoungLife (Eastern Prince William County)
"World CHANGERS" we will serve alongside
Frequently Asked Questions
Freedom Community Church is a church plant with big faith in what God will do in the Woodbridge and Manassas, Virginia communities. Here are some commonly posed questions about what to expect when you visit and find freedom today!